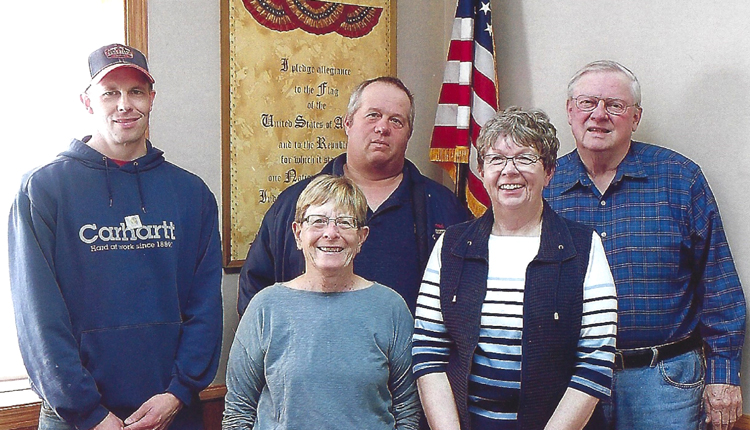 Township Officers:
Gene Janikula, Chairman of the Board
612-616-5637 gbjanikula@gmail.com
Gene has been an elected official of Woodland Township for over 50 years.
He farms in Woodland with his wife, Barb. His son, Joe, Daughter-In-Law, Tracy and their 3 sons also live in Woodland. He graduated from Watertown High School and Dunwoody College. He has been involved in local, county, state and federal government all of his life. One of the things he was involved in was traveling with the Minnesota Association of Townships to Washington, DC to meet with our representatives. He is currently a Director for the Wright County Township Officers, Chairman of the Watertown Fire Department Board, Director of Wright County Economic Development Partnership and Chairman of the Minnesota Association of Townships Legislative and Research Committee. He is a lifelong farmer, is on the church parish council and has a strong interest in vintage International Harvester Tractors.
Barry Pawelk, Supervisor
952-955-2927  barrypawelk@gmail.com 
Barry has been Township Supervisor since 2012, when his father retired after 34 years on the Township Board.  Barry farms and lives on the Pawelk Family Century Farm.  He raises cattle, hogs and crops.  He graduated from Watertown-Mayer High School and Hutch Vo-Tech.  He is married to Lori, and they have 2 children, Daughter Casey, Son Dan (married to Alyssa) and a granddaughter Payton.  
Dan Domjahn, Supervisor
612-709-2900   domjahn.woodland@gmail.com
Dan has been serving on the board for 8 years.
Married to wife Becky and two children Ethan and Bryn. He has worked at John Deere for 20 years. Dan also helps his father on the farm. In his spare time he enjoys camping with family and friends. 
Gloria Janikula, Clerk
763-658-4177 – home 763-658-4252 – hall woodland.township@gmail.com
Gloria has been township clerk since 1992. She and her husband, Duane along with their sons farm and have a seed business. They have four sons and five grandchildren. Gloria grew up in North Dakota and graduated from Minot State College. When not busy with farming, seed business and township, she enjoys volunteering at church, traveling and quilting.
Paula Wood LaVigne, Treasurer
612-670-4136 paulawlavigne@gmail.com
Paula has been Woodland's treasurer since 2013
Paula and her husband, Jeff, have 2 children and 2 grandchildren.
Paula graduated from Buffalo high school and the University of MN. She previously worked as a teacher in the Delano School District and was a Religious Education Director. When she is not working for the township, she is involved in gardening, reading, swimming, volunteering at Freedom Farm and is a reading tutor for adults.
Jeff Hilgers, Maintenance Supervisor
763-658-4252 jeffhilgers1@gmail.com
Jeff has been the maintenance supervisor for Woodland Township since 2016.
Prior to that, he worked with a local farmer and had 20+ years with a road maintenance company. He and his wife, Amy, and their two children live in Hollywood Township. In his free time, he enjoys fishing, camping and working in the fields.