Cat 40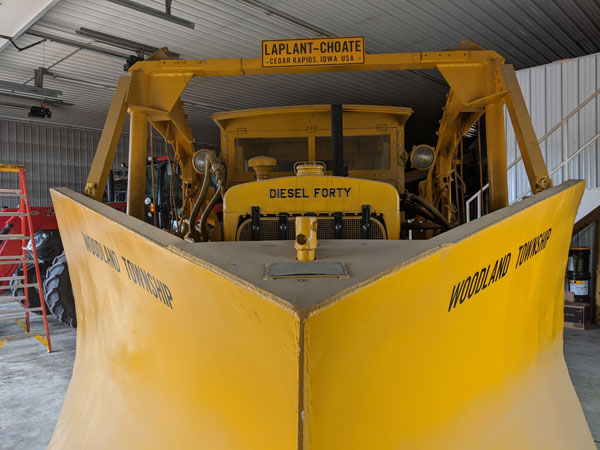 Woodland Township is the proud owner of a 1935 Caterpillar 40 which was used to plow snow with from the 1930's thru the 1950's.
It was purchased in 1935 during the depression era at a price of over $5,000 for the tractor and snowplow equipment. The Board approve an expenditure that was 300% over the annual budget because the need of the farmers and local businesses was so great.
Old timers recall that the engine's dull explosive exhaust noises could be heard from a mile or two away after a snow storm as the roads were plowed.
Most diesel tractors in the 1930s had four or six cylinders, while the Diesel 40 had three cylinders. It was a slow running engine at about 850rpm.
It was eventually replaced by more modern equipment, but was never fully retired.
In 1993, a committee of township residents began restoring the tractor. These volunteers raised private funds by selling advertising on signs for the parades the Cat 40 was in, coffee mugs, raffle tickets and by soliciting funds and parts from local businesses and individuals. This enabled the Caterpillar 40 to be restored to its original glory! The work included locating a LaPlante/Choate plow. No township money or time was spent on the restoration.
The Cat 40 is now on display in our Township Hall at 9065 Clementa Ave SW, Montrose MN 55363.